The theme of this month has been all about collecting, organizing and implementing many slightly different requests that we received over time from you, all centered on projects control.
Of course a clear and constant communication with your team and clients, along with detailed planning will always be the bread and butter of your project management, but:
How many times you had to politely ask to please add start dates to tasks?
How many times you had to ask to add approximate start and end dates when creating new projects?
And what about subtasks? Isn't it funny that most of the time a subtask's due date slips well after the due date of the parent task?
And people adding time entries to tasks NOT assigned to them? That is, tasks that they were NOT supposed to work on? Oh well…
We've all been there; But starting today you have a new tool in your toolbox to enforce some rules and get some sanity back! 😅
It's called "Strict project", and it's an option available both to new projects – you'll find it in the New project dialog form – and existing ones, by going to the project's settings.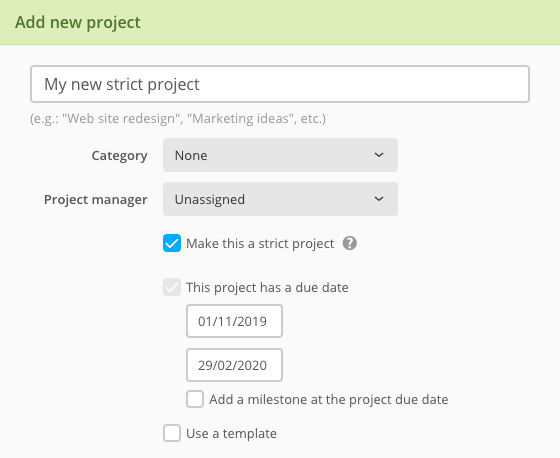 Once the project turns "strict", a set of new rules must be met when manipulating tasks, milestones or time entries, in order to alleviate the problems mentioned above.
We won't bore you with the finer details, but if you are curious you can read our dedicated FAQ about strict projects.
Thanks for reading!
---
New features
Expenses' receipts can now be uploaded as PDFs.
Configurable project features are now fully supported in project templates.
Enhancements
Added the event creation date inside the event preview popup.
Adding a new project from a template now uses the template category if there's no category selection.
Bug fixes
Sometimes expenses' receipts were not saved.
The time form was also showing roles and companies in the "Person" selectbox.
The search refinement system inside tha tasks page (My Tasks, Tasks across all projects, etc.) was not working in Safari.