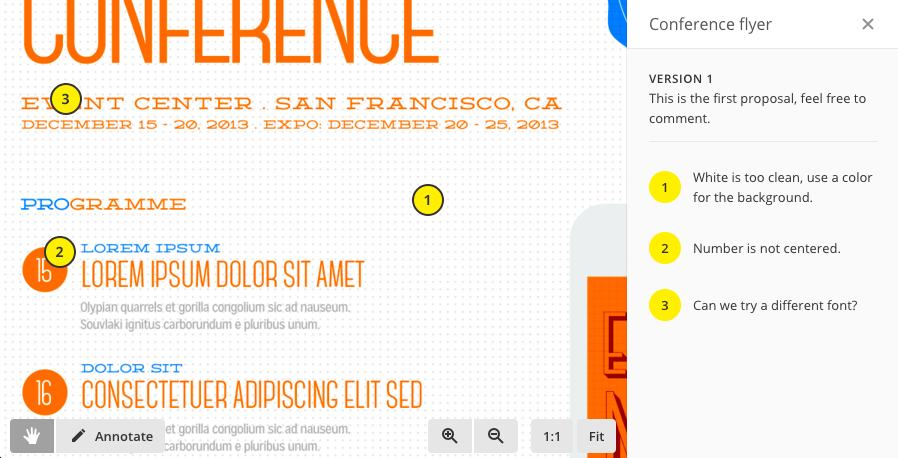 Since last week's announcement, we had an explosion of requests to join The Brave Collective just to try the new image proofing feature.
Of course we need to keep The Brave Collective to a manageable size, because it wouldn't make sense otherwise, and also because it really takes a toll on support (the Collective takes its role very seriously!) Anyway, the initial feedback for the new feature has been very positive overall, with many suggestions about how to further build on it.
So this week we are making it available to everybody! This will spare us from turning down all those requests to join the Collective.
Read on to discover the improvements for this week!
Pan and zoom
For those of you working with large images on small screens, adding annotations proved to be tricky, since those images were always scaled down to fit into the viewport. This was especially painful for users who work with very tall images – we're looking at you, Michael T.!
Well, pain no more! We removed the automatic fit to screen and added a shiny toolbar to let you pan and zoom images as you wish, view them in their original pixel size or, again, fit them to screen.

It's worth mentioning that you can still pan and zoom while writing the annotation text; you won't lose anything.
Migration to the new calendar
We are happy to report that in just two short weeks since we made the opt-in free migration to the new calendar available, 68% of users already migrated to the new system, with virtually no headaches :-)
For those of you who haven't migrated yet don't worry, there's no immediate rush. Both calendars will be available for some time, but the old one will be eventually removed one day; don't worry, we're not talking about near future. In the meantime, we really want to do our best to make the new one suitable for your needs, so please drop us a line and let us know how we can help.
That is all for today. You can find a list of changes below.
Thanks for reading!
---
New features
API: added endpoints for interacting with the new calendar.
Reply by mail: added ability to reply to new annotations and to annotations comments.
Added a refresh button in My Tasks, for those who disable automatic updates.
My Tasks: deal and cases below each task can now be clicked to open them.
Enhancements
Calendar now shows the tasks "assigned to me" instead of those "I should keep an eye on".
Calendar: better visual separation between all-day and normal events.
Added annotation count in the project file list and the file detail page.
Bug fixes
Sometimes disabled users couldn't be deleted.
Sometimes wasn't possible to edit accessible projects for disabled users.
Creating a project from a template wasn't including the Inbox tasklist.
The project card/list view toggle wasn't working on Firefox.
API: some users were always getting a "forbidden" error.
API: in some rare circumstances, endpoints for Comments and Files were failing.