The summer is getting hotter and hotter in our hemisphere but that doesn't prevent us from keep building Apollo! For those that are waiting for it, we are almost done with the Budget management features for projects, and users in the Brave Collective will be able to start playing with it soon!
Now back to today's new feature!
As it's often the case in teams of any size, project timelines are adjusted and people assigned to one project are moved to another. After shuffling teams to different projects, however, any project item responsibility assigned to a user needs to be reassigned by hand.
Not anymore! Starting today, you can reassign all Tasks and/or Milestones from a project member to another; just make sure that both users can access the project, head to the People and Permissions page, and search for the Reassign items button on the right pane. Clicking it will reveal the form below: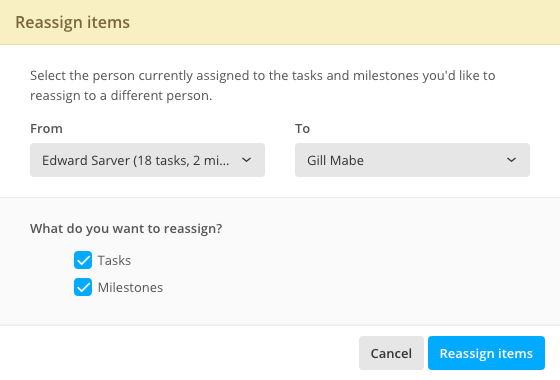 Select the current responsible on the left, the new responsible on the right, choose to reassign Tasks or Milestones (or both) and submit. Done!
Here's a handy tip for project managers that already leverage Project templates: suppose you have a template with accurately chosen timing and sorting for Tasklists, Tasks, Subtasks and Milestones, for which responsibles are chosen only when actually starting the project. The normal way of assigning responsibles to those items would be doing it manually after adding users as members of the project.
Instead, we suggest you create some fake users called, say, Generic Designer, Generic developer 1, Generic developer 2, and so on – users are unlimited in any Apollo plan – add those users as members of the Project template and assign them tasks and milestones, then create your project using the template and simply reassign all items using the Item reassignment feature.
A quick update for Apollo Mobile
While we're hard at work to bring you the Apollo Mobile native apps, we're still happy to satisfy all your requests for the current web version. A few users lamented the lack of the Project activity feed, that is very useful to see at a glance what happened lately in a project when you are on the go. So we went ahead and added it!
And that is all for today, thanks for reading!
---
Changes
Import template into project: selecting a template with tasks having a due date relative to the project due date is not allowed anymore if the destination project doesn't have a due date set.
Bug fixes
Added spacing to Tasks in My completed Tasks, that were not rendered correctly.
Keyboard navigation was breaking when focusing the select boxes in the Time log or Task picker forms.
The Google Drive or Dropbox authentication windows would not close after a successful connection, and Apollo had to be reloaded to start using those services.