Summer is coming – at least in this hemisphere, sorry south fellas – and even though the urge to enjoy the beach is ever growing, we keep hammering at the keyboards to bring you new features every week!
This time we thought to simplify access to Apollo's ever growing list of project features.
As you already know, each Project relates to a slew of elements, such as Tasks, Messages, Files and so on. Each of these element types gets its own section in the Project's main menu.
With the recent release of Gantt charts, the feeling is that this menu is becoming more and more crowded, and if your project is only about to-dos and discussing with your team and your client, you can tailor this menu to your needs. It can go from this:

To this:

This is a great way to make the Project look less cluttered, and lower the learning curve for your clients and, in general, less experienced users.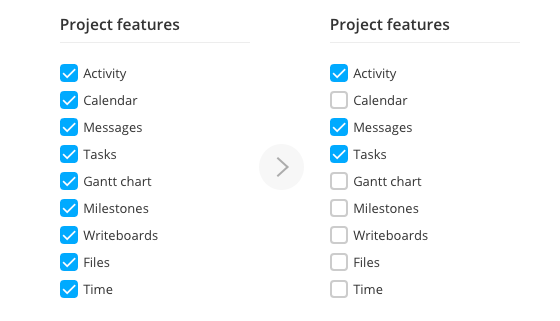 This feature will make even more sense in the following weeks, when we plan to release *hint hint* the ability to set the Project budget, along with the that to store the Project expenses.
Vote your favorite feature
Here's a reminder that you, as an active user, are able to vote for your favorite upcoming Apollo feature. Just head to the Feature polls page, log in with your account and start voting.
That's all, folks. Thanks for reading!
---
New features
Added ability to set a start date to Tasks in Task list templates.
Enhancements
Added paginator to the 'Milestones across all your projects' page.
Bug fixes
API: some workspaces weren't able to add or modify calendar events.
In some cases, attachments to a Personal task or to a comment on a Personal task weren't visible to users outside the Task owner.
Edit task form: the start date couldn't be removed once set.
Body content sent in HTML format using the email dropbox feature was not sanitized properly in some cases.