This week we show you a new feature that just landed in Apollo and also we update you about our efforts to be compliant with the GDPR (General Data Protection Regulation). Let's dive in!
User Roles
This new feature has been requested quite a lot lately, in particular by teams that have more than a few people collaborating in a project at the same time.
Especially when external users are involved in the project as well – like the customer, for example – it can be difficult for project members to know who to assign a task by looking at a dozen or more available options.
Starting today, you can assign Roles to users in a project, and then assign tasks by selecting that role. Let's see how to do it:
You add roles by going to the Roles page for a project. After defining a role, you just add users one by one. You can mix internal and external users, of course, and assign one user to multiple roles as well.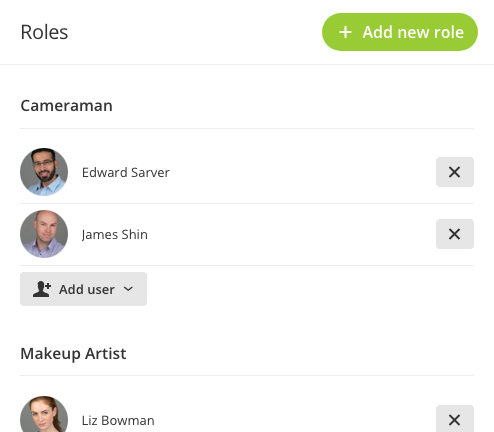 And here's how simply is to select multiple responsibles for a task now. Just click the role name and the all project members with that role assigned will be selected instantly!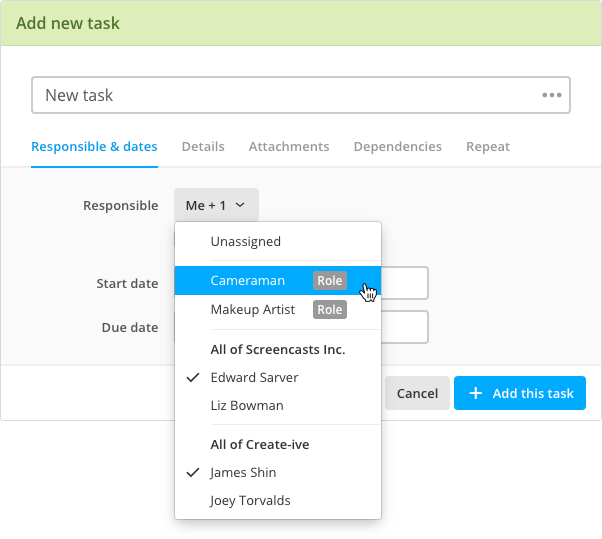 Of course, moving users to a different role will not mess with tasks already assigned to them.
Europe's General Data Protection Regulation (GDPR)
In the last months we also worked to ensure we were ready for the GDPR.
By now, you should have received a huge number of GDPR related emails, so we can spare you the lecture about the new European law that comes into effect next Friday. If you want to know more, see the official resource on EUR LEX.
Rest assured, we have devoted all the necessary resources to comply with the new regulation. A few examples of the activities that we carried out are:
Published an updated Privacy Policy.
Updated our internal data management and data retention policies, expecially for data backups and made sure that everything is encrypted at rest.
Reviewed and updated all our internal tools and dashboards, and made sure the displayed information is adequate, relevant and limited to what is necessary in relation to the purposes for which they are processed.
Vetted all subprocessors that handle our customers' personal data to ensure they respect the security and privacy standard under the GDPR.
Reviewed our data export options to make sure that the account owner can export all data in a structured, commonly used and machine-readable format (XML) anytime.
That's all for today, thanks for reading!
---
Enhancements
API: You can now retrieve projects that have been archived.
Project templates: Milestone's due dates can now be set to more than 52 weeks.
Bug fixes
Clicking below the "11:00 PM" line on the calendar week view wasn't showing the form for creating a new event.
Enabling the "Shift subtask date" option when editing a task with subtasks would only shift direct-child subtasks.
Contacts: trying to add a note with visibility to specific people would show an error if there was actually no people selected.