Hello! This week's update brings great news to heavy calendar users and also some needed orderliness to the contact, deal and case detail screens. By the way, this is the 23th Apollo update in the last 23 weeks. We're on a roll!
Super fast event preview
One popular request from loyal users that are switching to the new calendar was that they didn't want to lose the at-a-glance information when hovering events, and we agree that that was a super useful feature, even more for those with very busy calendars.
Well, good news! The event preview is back, and it's better and quicker than before! Just hover any event in your calendar to instantly see a preview of its information, as shown below: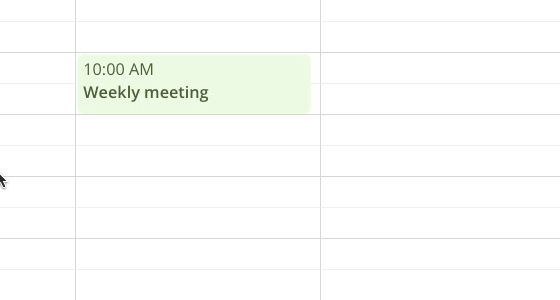 This effectively makes the calendar interaction faster and more useful. More improvements to interaction speed are on the way: you will soon be able to view the full event and edit it in a fraction of the time it gets just to view it.
Better organization of the contact screen
Staying on top of things is a common need in today's world, and even more when you happen to deal with many contacts. And when you are not the only person who updates those records, even more so!
Starting today, there's a new Recent Activity tab in the contact detail screen, which helps you track the latest changes happened to a specific record.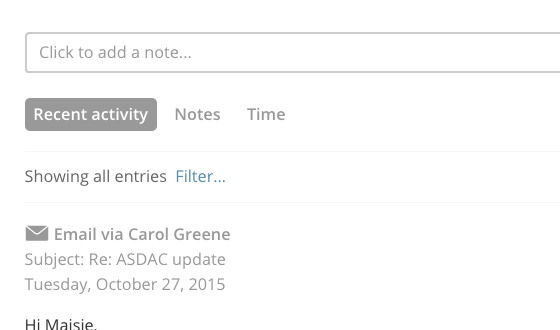 The Notes tab has been modified so that now notes are listed by the date specified on the note itself and not by the date the note was entered in Apollo. In this way you'll get a better sense on how interaction with the contact really unfolded over time!
Thanks for reading, see you next week!
---
Changes
Meetings in calendar are now signaled with an icon of group of people instead of a single person.
Enhancements
Better alignment of tab labels in contact, case and deal detail pages.
Added a confirm message when deleting calendars or calendar categories.
Bug fixes
The reload buttons in My tasks, Tasks across your projects and Tasks across your contacts were always resetting all filters set in those pages.
The loading message in some popup windows were forcing the scrollbar in those windows to appear.