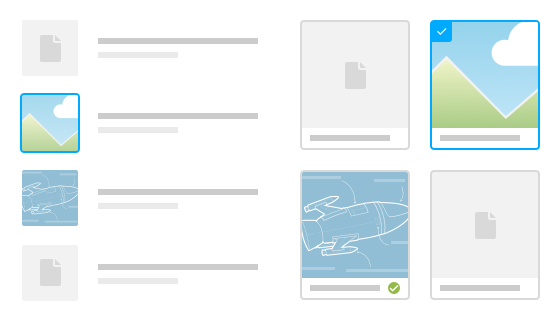 Today, we are thrilled to show you a major refresh of file management in Apollo: a new, cleaner and roomy File list in projects.
The case for a new list
The original file list was there since the very first version of Apollo. It was built in 2009 as a simple way to share files with other project members, and it's got a slew of new functionalities over time, to keep up with project files' features: versioning, comments, Google Drive integration, image zooming, bulk actions, and lately, image proofing and the approval workflow.
All of these features introduced new elements or bits of information that needed to be shown along each file, and image proofing and file approval features were no exception: they made the screen busier than ever, and it was clear that the list needed a complete makeover.
So, what's new?
To start, there's the ability to view files as cards, with bigger, easier to click image thumbnails, which are now of higher quality (those of you with retina displays will notice the improvement).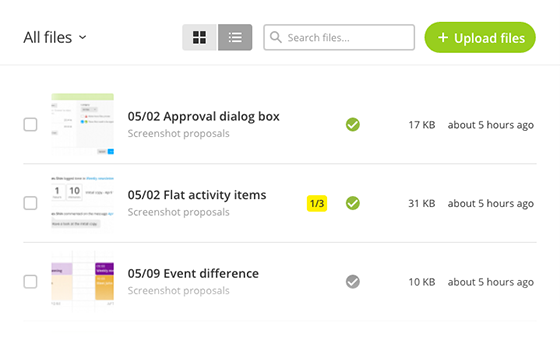 Then there's much more room available to display your files, thanks to the removal of the sidebar. All controls to change what you see on screen have been moved to the top, consistent with the latest views in other parts of the application.

Lastly, there's the ability to see approved files only, files that are awaiting for approval, or just files attached to elements in the current project.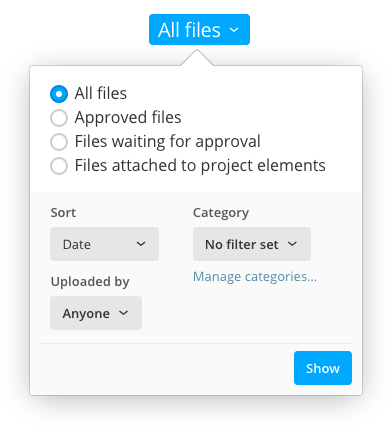 Other minor improvements include a dialog box to edit file categories (just like in the project list), and the ability to see the number of annotations for each file, along with how many of them have been resolved. Of course, everything from the previous list is still there, no functionality has been removed.
Hopefully the new list will make your work easier, and boost your productivity.
Thanks for reading!
---
Bug fixes
In some circumstances, the number assigned to annotations wasn't unique for that set.
In rare cases, two project files were being shown as being different versions of the same file.