Welcome to our weekly update for Apollo. We've got a nice new feature related to project files, and some refinements to the new flat look. Read on!
Ability to mark files for approval
Discussing file changes with customers and teammates is one of the pillars of project management; because of this, the ability to share files in a project has been a major feature of Apollo from its early days.
Starting today there's a new, very useful feature: you can request a file to be approved by the people working on the project.
So how does this work? When you upload a file or edit an existing one, you'll notice that there's a new checkbox to mark the file as needing approval.
Once the checkbox is checked, the file can be approved by anyone working on the project. To approve it, or to remove the approval, open the file detail page and look for the "Approval status" block.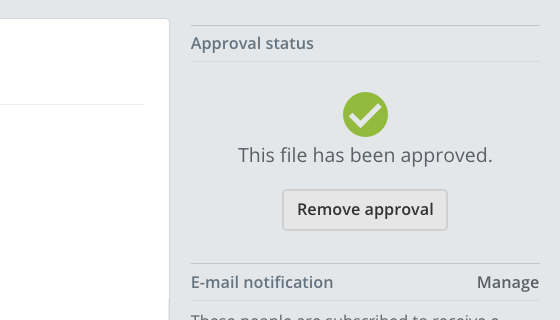 The approval status will also be visible in the file list, and all people subscribed to changes to that file will receive a notification about the file being successfully approved.
Flat interface update
There's also a couple aesthetic changes for the activity feed in Overview: we have updated some of the few elements that were still sporting a non-flat look to match the new flat look. In short, shadows and gradients are gone, replaced by a more minimalistic look.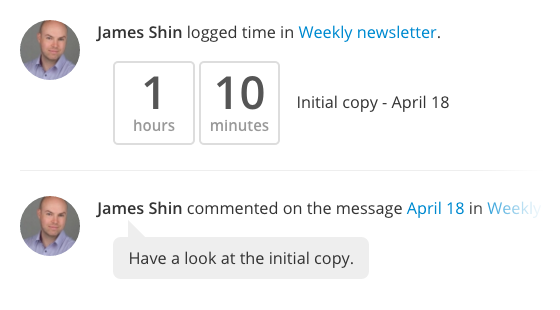 We're continuously tweaking the flat look and we plan to make it the only one available once we feel it's mature enough. We unveiled the new flat user interface a couple months ago, then we made it available to all users, and finally we made it the default one for everybody a few weeks ago.
We're done for today! There's a small list of enhancements and bug fixes below, if you're interested.
Thanks for reading!
---
Enhancements
Better alignment of the color bullet in category selectboxes, and better icon alignment in general.
Bug fixes
After using the full Note form to add a note, the "Note created successfully" notice was being shown everytime a new task was added.
Removed extra space above the first field in the Uplad file form.
Sometimes tasks in "Tasks across your projects" and the relative CSV file weren't matching.
Saving an existing contact without setting an owner was causing an error.