This is the 26th Apollo update in the last 26 weeks – that's a 6-month straight streak! Whoooo :-)
More options when creating templates from projects
A couple weeks ago we announced the ability to create templates using an existing project as a starting point. Many of you did appreciate the new feature, and some even suggested how it could be improved; we love that!
One particular feedback from Mark R. (thanks Mark!) was then echoed by a few more users: you wanted more control on which elements of the starting project get copied over the new template. As you may know, our development model is strongly centered around your needs, so we quickly seized the opportunity!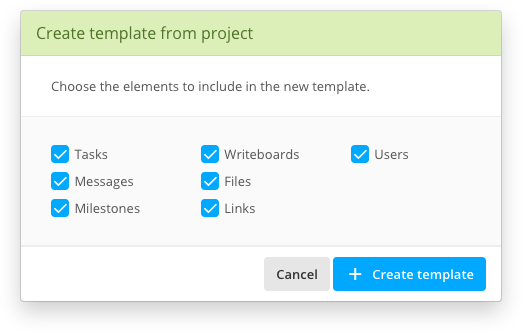 When creating a template from a project, you'll now be presented with a dialog box that allows you to customize the template creation process. Using the checkboxes, you can exclude specific class of items from being copied in the template.
Bright colors for calendar events
Our work to make the new calendar always more suitable to your needs continues. After adding the instant event preview a few weeks ago, today the events themselves get a usability and stylistic change.
A few hardcore calendar users (that is, people who manage a lot of events) made us notice that event colors were too subtle and washed out for being recognized at a glance, and this impacted their ability to get a sense of the whole week. Their suggestion was to make those colors brighter.
After we were sent screenshots of their calendars, we had to agree and change how the events are displayed on screen. Below is a comparison between the old and the new look: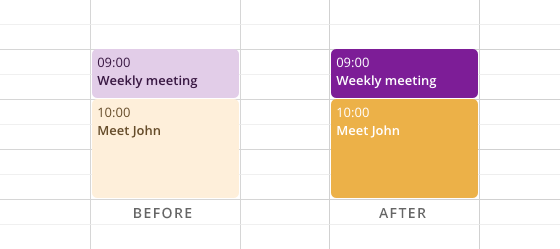 Pretty stark, huh? The old look used a toned down version of the color you choose in the event form, while the new one uses the exact same one, and adjusts the text color accordingly.
That's it for today, thanks for reading!
---
Enhancements
The extended description field inside the forms for adding tasks can now be taller.
Bug fixes
The extended description field in the Task forms didn't resize the dialog box when expanding (thanks Sahan H.).
In some rare circumstances, the signup process was hanging because of a duplicated referral code generation.
Users with no permission to edit or delete files were presented with the Edit and Delete buttons (albeit not working) in the File detail page.
Editing a file with approval enabled sent a duplicate notification email to users.