When we announced the first version of the image proofing feature, we knew that it could be too limited for some advanced users, so we made a development plan to expand its functionality over time.
A couple weeks ago, we introduced the new file list which, in addition to being cleaner and faster, has been redesigned to better assist the image proofing feature. Today, we're adding the ability to draw multiple points for each annotation.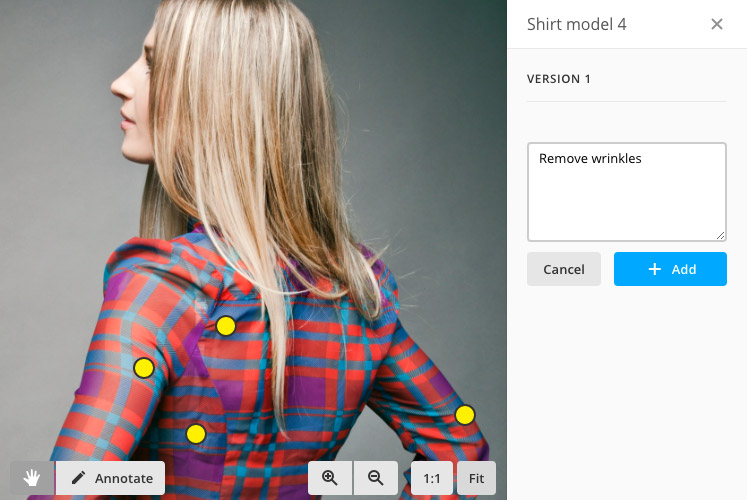 So how does it work?
It's so simple it doesn't even need an explanation, but here it is: start by clicking the Annotate button, and from there, each click on the image will add a new annotation point. When you're done, type your comment in the text box and click Add to save.
As always, you can still use the Zoom and Pan tools to move around while in annotation mode; your comment, along with all related points, will remain visible.
More coming
There are more features coming up for the image proofing feature, so stay tuned. In the meantime, we hope that this one will make your workflow a little better.
Thanks for reading! Those interested might want to have a look at the list of minor changes below.
---
New
Attachments to project elements (messages, comments, etc.) can now be deleted from the Files section.
Enhancements
Project settings: added color indicators in the Category selection box.
Better late than never: all pages are now HTML 5.
Smaller arrow size in the "Recently completed" button in task lists.
Under the hood improvements to speed up image loading and data saving.
Bug fixes
Changing user permissions in a project didn't propagate the changes to that user, so it would't never be able to access that project or its features.
The Dropbox integration had a few minor errors here and there.
The project search wasn't working anymore. Sorry.
Signup: the avatar for the logged user was, ahem, too prominent.
The Manage subscription dialog was showing a fatal error in some cases.