Today you'll find an improved project overview screen and an addition to the save timer dialog.
New project overview screen
Since releasing the new project list a few months ago which – along with better filtering – gave you a more comprehensive view of your projects, a recurring request started appearing in our inbox: have that additional information right in the project overview.
So today we're fulfilling that popular request: a new project overview screen where you can see the project information at a glance.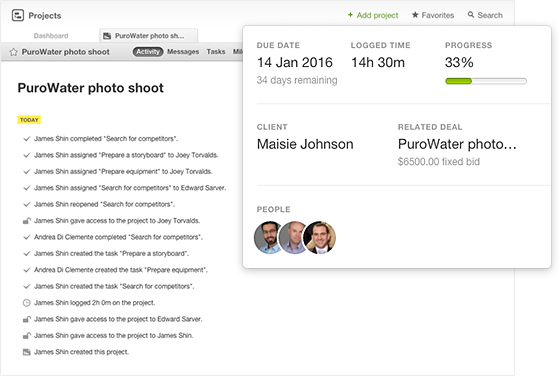 Shown here are the due date and how many days are left, total logged time, project progress (based on completed/remaining tasks), client and related deal, and a list of people working on the project; if needed, also the project description and its status (Silent or Archived) will be there.
Custom date when logging time
Do you ever forget to save a timer, only to remember doing it on the following day? And being forced to search for the time entry that you just added, only to change it back to the right date?
That's no longer the case! Now you can select the time entry's date right when logging time from a timer! Easy!
This new feature is available both in the desktop and mobile version of Apollo.
Thanks for reading!