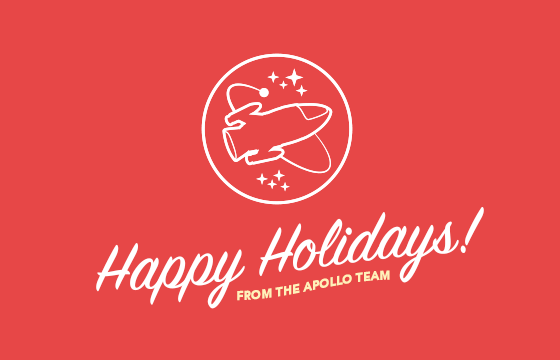 Best wishes for a season of love, peace and joy!
We are so happy about the way this year turned out for us: we started communicating with you in a consistent way again, and your response has been amazing! We received a lot of feedback and praises for new functionalities, and we are sure you'll love what's cooking for the next months.
Speaking of new releases, also this week we are pushing another Apollo update: this brings us to 6 releases in 6 weeks!
This is mainly a service release (enhancements and fixes) but you'll also find a new Download as CSV button in the My Completed Tasks screen, to help those users that need to submit their completed task lists for the yearly review.
What to expect next week
The signals we're getting from The Brave Collective (*) tell us that we are ready to release the new, much more granular, permission model for time logging and time entries in Apollo. Excited? We bet you are!
(*) The Brave Collective are those users that get to try the new upcoming Apollo features before they are released to everyone. They help shaping the feature, and – of course – they suffer from the occasional newly introduced bug :-) Sounds interesting? Apply by email to contact@applicomhq.com.
Happy Holidays!
---
New features
Ability to get completed tasks in a CSV file.
Enhancements
Better draft autosave on writeboard revisions.
Clicking the current deal status will now avoid reloading the whole page.
Bug fixes
The project's milestone list didn't update when adding a new milestone, if a previous minor error had already occurred.
The event detail tooltip was showing the wrong list of participants in recurring events.
Adding a yearly repeating event failed when the event start date was in the future.
Fixed an issue with a translation key in the event form dialog.
The "year(s)" field remained disabled when adding a repeating event with a custom year value. Which, yeah, defeated the purpose of that field. We'd like not to talk about this anymore.
Fixed a small problem with the Basecamp Classic XML import procedure.
The "Cancel" button in the confirm dialog for undo-ing an Highrise import wasn't working.