We're back with a new Apollo update, and this time is again about a very popular request from our users: Reports, Reports, Reports!
After reviewing hundreds of emails, we choose around 20 Reports to start with, and we put them all together in a new Apollo section.
The all–new Reports section
It happens all the time: users ask us to obtain their data in a way it's not meant to be in Apollo, for example the top delayed tasks across all projects, or all the time logged for a client across all his projects and all the time logged on the contact itself. Even though Apollo has a comprehensive API that will let you do pretty much anything with your data, not everyone is a developer or has one handy all the time.
To honor those requests, we had to run some custom database queries on behalf of the user each time, then send the results back to them via email.
Starting today, they can just open the Reports section and click the Report titled "Billable vs. Non billable hours by contact", or "Top 10 delayed tasks".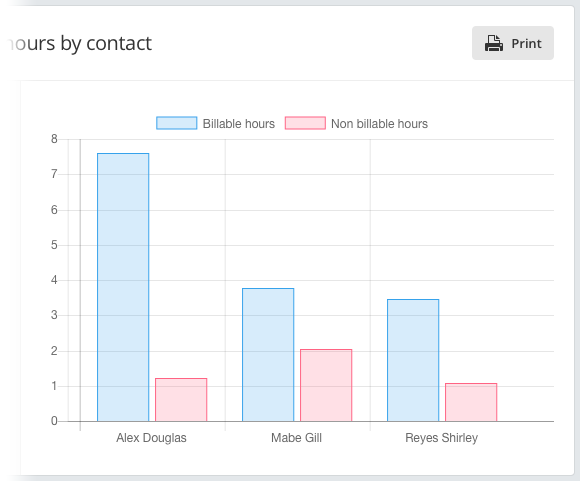 There are two types of Reports: those with tabular output and those with a chart output; you can easily tell which is which by looking at the icon before the Report name – a small chart or a table.
All Reports can be printed (there's a "Print" button on each page) and can be customized via their set of filters.
The Reports section will keep growing to suit your needs, so if you need one that's not listed, contact us on contact@applicomhq.com and we'll make it for you.
That's all for today, thanks for reading!
---
Enhancements
Added ability to manage Project categories from the Project settings page.
Mobile: added support for File approval workflow.
Mobile: ability to see comments for a specific file version.
Mobile: the File detail view now shows the File version number.
Bug fixes
The Highrise data import was sending the "Success!" email notification even when the import did fail.
Deleting a task wouldn't update the calendar.
In some cases, opening a contact wouldn't work due to misbehaving database query.
In an archived project, the Project settings tab was leaking some checkboxes in the Tasks tab.
Merging two workspaces wasn't working in some edge cases.