Welcome to the last update of 2017! It's been a great year for us, and we wanted to introduce a couple new features before it comes to an end. Let's give them a look!
Granular permission system
Up until today, the user permissions system in Apollo was very basic: it just provided a setting to grant the Administrator permission, which allowed a user to edit contents created by other users, create new projects and templates and manage them and, last but not least, manage users.
Sometimes though, you might want to just offload some of your responsibilities to somebody else, without giving them too much power. For example, you might need a content moderator that is not allowed to manage projects or edit or delete users.
Starting today, you'll have a granular permission system to choose from. Just open Settings → Internal users and set your preferences for each user.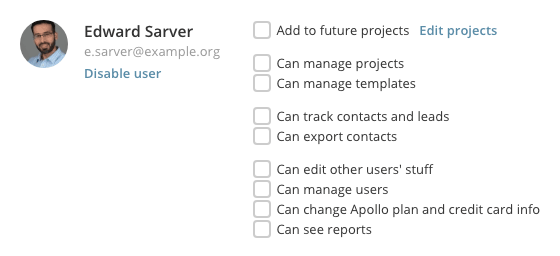 Here's a breakdown of the available options:
Can manage projects: let the user add projects and edit project settings and members.
Can manage templates: let them add and edit project or task list templates.
Can track contacts and leads: enable user to CRM features – such as Cases and Deals, and adding notes and tasks on contacts – instead of just the Contact list.
Can export contacts: allows the user to export contact data as CSV.
Can edit other users' stuff: allows the user to edit other users' content – such as messages, tasks, comments, etc. – in projects it can access.
Can manage users: let the user invite new users, disable them, delete them or set their permissions.
Can change Apollo plan and credit card info: this is self-explanatory.
Can see reports: enable the Reports section for the user.
Ability to merge Deals
This is a much requested feature by CRM users working on a team. Deals can accumulate quickly, and sometimes they get added twice. Merging them is the only way to declutter without losing any data.
To merge a deal, just open it, click the Options button, click Merge deal and follow the onscreen instructions.

That's all for today, and for 2017.
Merry Christmas and Happy New Year from all of us at Apollo HQ!
---
Enhancements
Ability to set a "per day" value on Deals.
Better initial rendering for Tasks.
Bug fixes
The timers panel wasn't dragging correctly in Firefox.
The date for recurring Tasks could be removed using the Task quick date dropdown.
Some task list on the project's Tasks page weren't being hidden when unchecked from the list on the right pane.
Merging two projects would sometimes skip some files.
Starting a project from a template wouldn't create the template's file folders.
Tasks presets weren't storing the grouping setting correctly.
All-day events added from Apollo mobile app weren't showing in the full app.