We're back with something new to show, as you would expect from any Apollo update, and it's about Tasks in Task list templates.
Task list templates (along with Project templates) have been available in Apollo since the beginning, and while they rarely get mentioned here, they're really useful to speed up the repetitive Task creation process involved when managing many projects at once.
Tasks in Task list templates, by nature, can only have relative due dates, and when you actually use a template to create a new Task list, Tasks' due dates are converted to absolute dates.
Up until now you could set them to be due after a number of days, weeks or months, but today you have one more choice: set them to be due after a number of weekdays. This means that the generated Tasks' due date will skip weekends and go straight to the first weekday.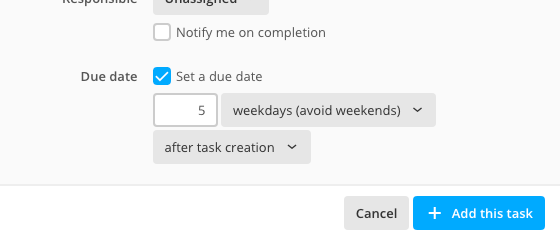 This feature was requested quite often in the last few months, and after testing it internally we are happy to make it available for everyone.
After a short break, polls are back and there's a new one available today, so don't miss the opportunity to vote for your favorite feature!
That is all, thanks for reading!
---
Enhancements
The message preview in the message list now correctly separate lines with spaces (e.g.: "LastWordFirstWord" → "LastWord FirstWord").
Bug fixes
Sometimes, showing an hidden project Tasklist would fail to show its Tasks.
The first image upload for a given workspace would sometimes not start the thumbnail creation process, resulting in a image missing its thumbnail.