You guessed it! Another week, another update from your friendly development team here at Apollo!
As we mentioned in earlier posts, part of our development focus is geared towards strengthening Apollo's CRM features. (See recent updates: categories for contacts and contacts ownership, subscribe to contacts as a whole or to deals, and the new tasks view for contacts). The trend continues this week, with another useful addition…
Task list templates for contacts
If you find yourself repeating the same list of tasks over and over (and over), you can now define a preset list of tasks and reuse it anytime by opening the dropdown menu of the Add a task button inside a contact.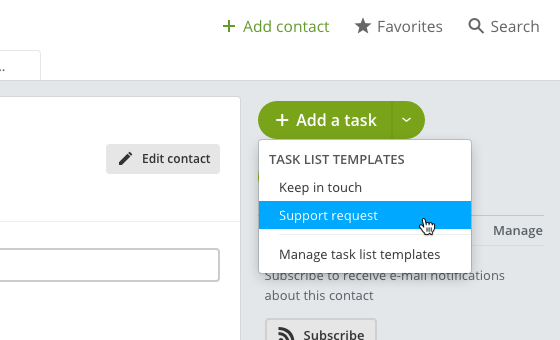 To create a new template, just click Manage task list templates in this menu, or head to Contacts > Templates.
That's it for now, but stay tuned for more features. As always, there's a list of changes below, for those interested.
Thanks for reading!
---
Enhancements
Refactor/cleanup for Settings > Notifications.
Realignment/cleanup for the task picker inside the Save timer dialog.
Realignment/cleanup for the project and contact task pickers inside the Add task dialog.
Bug fixes
Filtering contacts by tags was stopping the pager from working after the 2nd page.
The project's Time page wasn't updating after deleting a time entry.
The project list title said "sorted by" even when the selected view was meant to be "grouped by".
The contact name in the project list was shown as Last name - First name instead of First name - Last name.